What parts of the roll fast doors need maintenance?
Factories often use roll fast doors frequently, and damage will inevitably occur after a long time. If you do not pay attention to maintenance during daily use, it is easy to malfunction and reduce the service life. However, many users often do not know how to maintain it. The following summarizes eight parts and methods that can be maintained by themselves.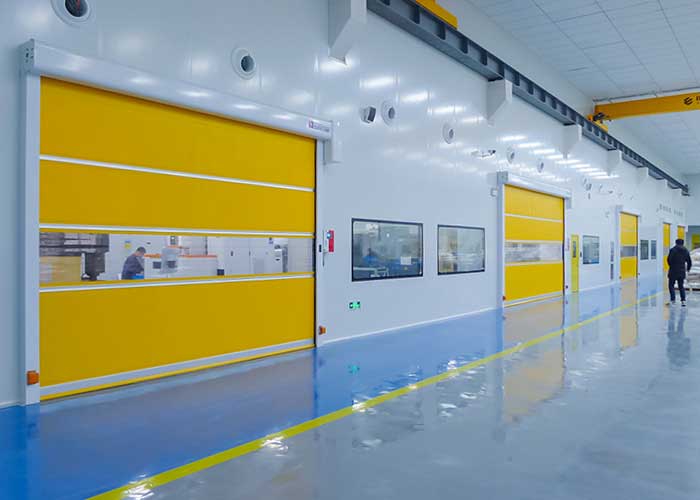 Eight parts and methods of maintaining fast doors
1.Screws, regularly check whether there is any looseness, if there is a timely reinforcement.
2.For the track, regularly check the wearing parts such as sealing brushes, sealing strips, zippers, etc., and replace them in time if damaged.
3.For the motor, add lubricating oil every six months.
4.Door curtain, check whether the door curtain is damaged, stained, or scratched. If the damage is serious, it should be replaced in time, and the stain should be cleaned in time (do not use strong acid or strong alkali solution for cleaning).
5.Wind-resistant strips, timely check whether the wind-resistant strips are deformed, loose, or worn, and replace them in time.
6.The track should be kept clean daily to prevent the accumulation of foreign matter. And if there is foreign matter, it should be cleaned up in time.
7.Check the limit, check whether the door curtain does not rise to the top or not to the bottom. If so, adjust the limit in time.
8.Motor, pay attention to the sound of the motor running, whether there is noise or foreign objects. If there is, it will be cleaned up in time.
There will inevitably be some minor problems during the use of the roll fast doors. As long as we take more care and maintenance during use, we will avoid the problems of accumulating and prolonging the service life. Once there is a problem that cannot be solved by yourself, please contact the after-sales service to solve it in time, and do not disassemble or replace accessories by yourself.