Enhancing Energy Efficiency with PVC Speed Roller Shutters
PVC speed roller shutters are an indispensable addition to modern workshops, providing a range of benefits that contribute to enhanced energy efficiency and comfort. These shutters offer exceptional sound insulation, heat retention, airtight sealing, insect-proofing, and dust protection. This article explores how PVC high speed door improve environmental sustainability while delivering optimal functionality. We'll delve into their remarkable features and shed light on their pivotal role in curbing energy consumption.
Advantages of PVC High Speed Door
Superior Insulation and Sealing
PVC high speed door shutters excel in maintaining indoor temperature consistency. With effective airtight sealing, they prevent the undesirable exchange of indoor and outdoor air, reducing energy waste caused by temperature fluctuations. This feature proves particularly beneficial in both hot summers and cold winters, ensuring a comfortable working environment year-round.
Energy Efficiency and Cost Savings
In traditional setups, temperature regulation in workshops and offices often entails significant energy expenditure. Turning up the heat during cold winters and cooling during hot summers can strain a company's finances. PVC high speed door help curtail this energy drain by minimizing indoor/outdoor air exchange, which results in substantial energy savings over time.
Quick Opening and Closing
PVC high speed door are engineered for swift operation. The door's rapid opening and closing speed minimize the duration during which indoor and outdoor air can mix. This efficiency contributes to the reduction of energy loss, making them an ideal choice for energy-conscious businesses.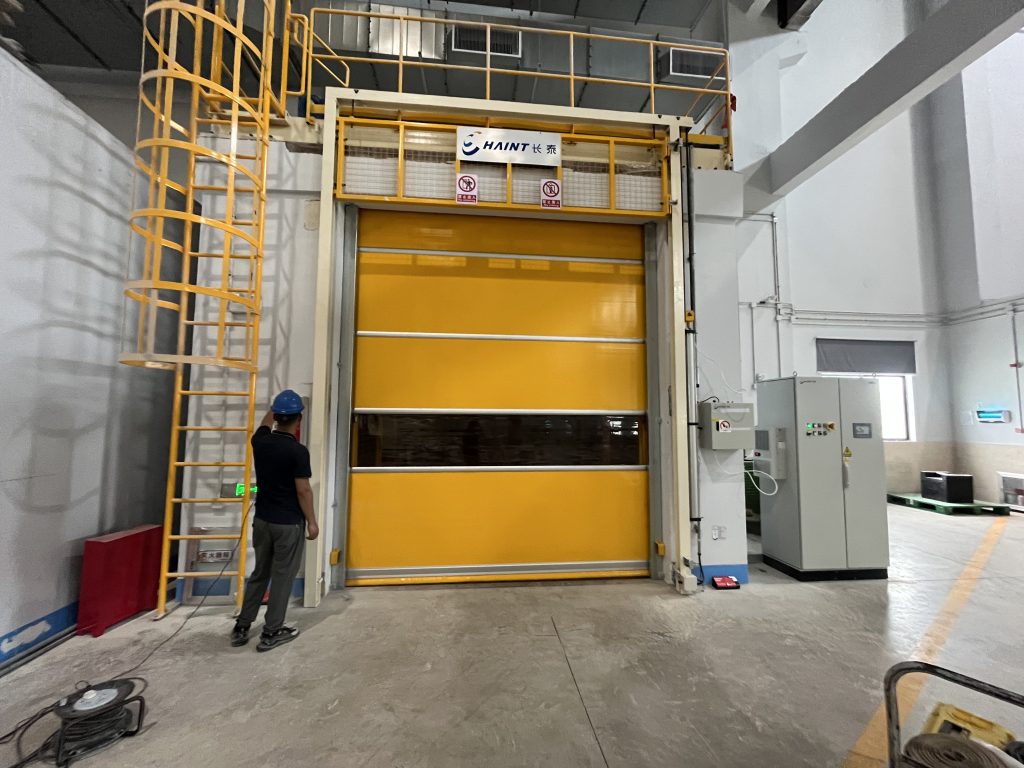 Operational Mechanics of PVC High Speed Door
The operation of PVC high speed door involves a streamlined process aimed at efficient door opening and closing:
Data Transmission: The door opening and closing sensor transmits opening data signals to the control system.
Frequency Conversion: The control system conveys the data to the frequency converter based on the PVC fast rolling door's command.
Motorized Action: The drive motor is activated, causing the door curtain to lift quickly, allowing smooth passage for people and vehicles.
Closing Sequence: After passage, the door curtain descends, sealing the access point until the next signal prompts it to reopen.
Speed Management: The use of a frequency converter ensures controlled motor speed, preventing abrupt closure and associated noise. The converter facilitates gradual acceleration and deceleration, enhancing overall operational efficiency.
PVC speed roller shutters are a pivotal solution for enhancing energy efficiency, comfort, and sustainability in workshops and industrial spaces. With their remarkable insulation, airtightness, and swift operation, these shutters contribute to substantial energy savings, making them an indispensable investment for forward-thinking businesses. By preventing temperature fluctuations and minimizing energy wastage, PVC high speed door offer a cost-effective and environmentally responsible solution. Bright Dairy Co., Ltd., a cooperative customer of SEPPES, chose this product.