Benefits of PVC High-Speed Shutter Doors for Clean and Efficient Workspaces
In today's business landscape, maintaining a sanitary environment is a top priority for enterprises operating in production and warehouse facilities. Clean areas, particularly those found in pharmaceutical workshops and food factories, require the installation of PVC high-speed shutter doors. These doors not only comply with food and medicine cleanliness regulations but also play a crucial role in preserving our overall health. By choosing to install fast rolling doors, businesses can ensure clean and orderly workspaces, even with frequent entry. Let's explore the reasons behind this choice and the various benefits offered by PVC high-speed doors.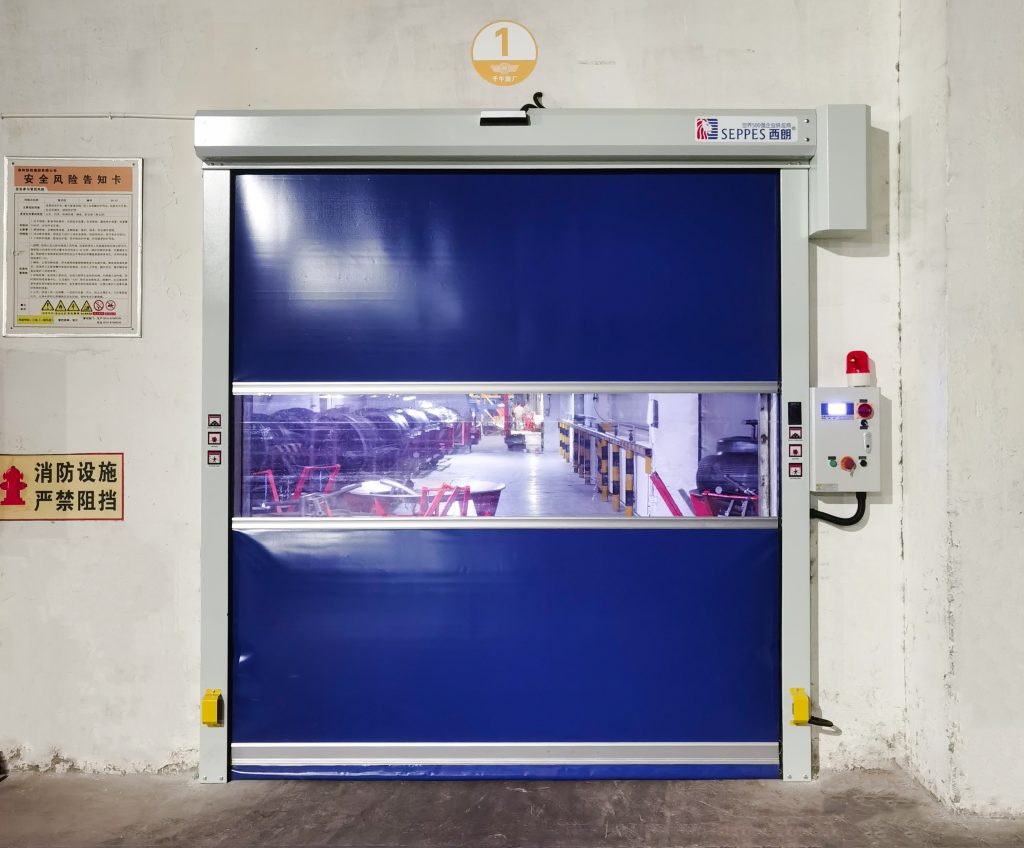 Basic functions of PVC high speed door
Maintaining Sanitation and Air Quality:
One of the primary advantages of PVC high-speed doors is their rapid opening and closing mechanism. This feature ensures that the time interval between the door curtain's opening and closing remains minimal. Consequently, it significantly limits the interaction of airflows, guaranteeing a dust-free level of air quality within the workshop. As a result, these doors effectively maintain constant temperature, humidity, and cleanliness, crucial for industries that prioritize hygiene.
Isolating the Workspace and Reducing Energy Loss:
PVC high-speed door creates a strong barrier, effectively isolating the interior and exterior environments of the workspace. This isolation prevents the alternation of airflows, minimizing the loss of energy and creating an energy-efficient workspace. By reducing air exchange, these doors play a vital role in preserving temperature and humidity levels required for specific processes, ensuring optimal working conditions and preventing energy wastage.
Enhancing Sound Insulation and Comfort:
Noise pollution can be a significant concern in industrial settings, leading to discomfort and decreased productivity. PVC high-speed doors offer effective sound insulation, reducing noise transmission and creating a comfortable working environment. By minimizing noise pollution, these doors contribute to improved concentration and employee well-being, enhancing overall productivity and efficiency.
Boosting Production Efficiency:
The lifting speed of PVC high-speed doors is more than 20 times faster than that of traditional electric rolling shutters. This rapid operation eliminates obstacles for goods and pedestrian traffic, enabling seamless movement within the workspace. Unlike conventional doors that require waiting time, high-speed doors can be opened instantly, allowing for uninterrupted workflow and enhanced production efficiency.
Enhancing Company Image and Demonstrating Strength:
Installing PVC high-speed doors not only offers functional benefits but also positively impacts the image of the enterprise. These doors reflect a commitment to advanced technology, efficiency, and professionalism, enhancing the company's reputation. By showcasing a modern and streamlined approach to operations, businesses can instill confidence in clients and stakeholders, further solidifying their market position. Many large companies like Huawei have chosen to install this type of door.
Conclusion:
PVC high-speed shutter doors provide numerous advantages for businesses operating in clean and efficient workspaces. From maintaining sanitation and air quality to reducing energy loss and enhancing sound insulation, these doors play a crucial role in optimizing production efficiency. Furthermore, they contribute to a positive company image by showcasing technological advancement and strength. By considering the installation of PVC high-speed shutter door, enterprises can elevate their operations while meeting the demanding requirements of modern industries.