Comprehensive analysis of PVC high-speed doors to enhance safety
PVC high-speed doors have gained popularity as a standard feature in numerous workshops due to their exceptional practicality. These doors strike a balance between efficient operation and safety by incorporating various safety devices. In this article, we will delve into the specific safety functions that make PVC high-speed doors a reliable choice.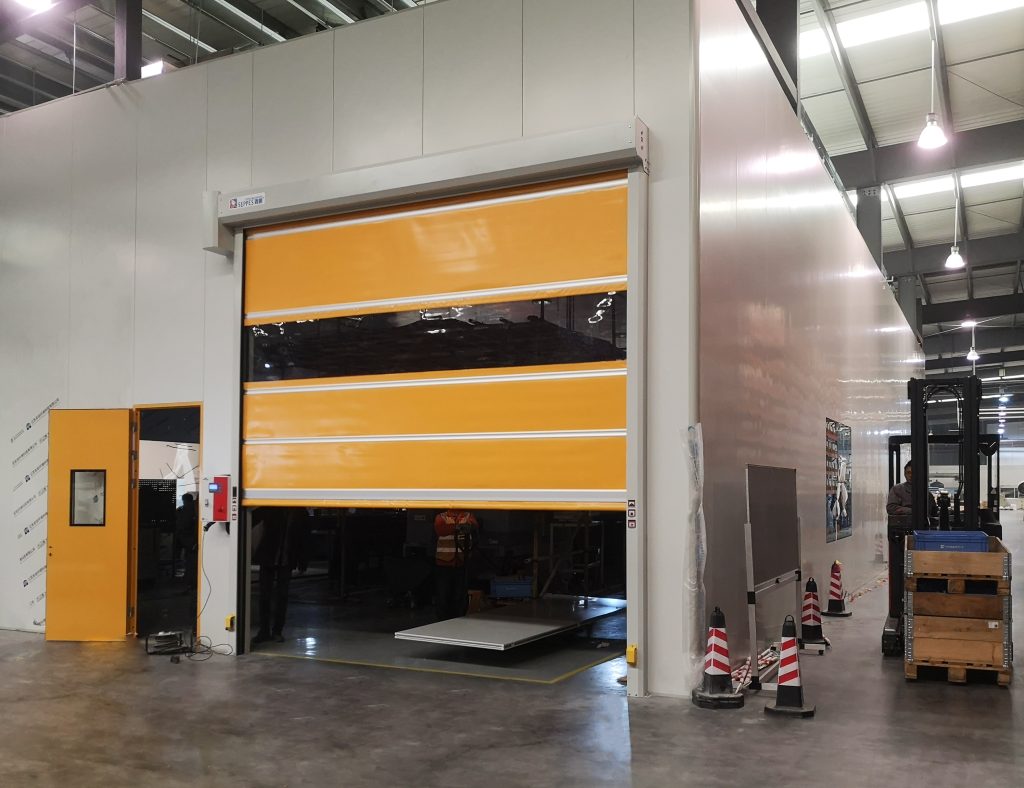 Reflection of the safety function of the high speed roller shutter
Emergency Stop Button: Halting Operations for Immediate Safety
The inclusion of an emergency stop button ensures prompt action in critical situations. Upon pressing the button, a pair of contacts interrupts the power supply to the curtain's operation equipment. Simultaneously, another pair of contacts triggers the Programmable Logic Controller (PLC), cutting off the starting circuit of the power equipment under the PLC's control.
Safety Photoelectric Systems: Detecting Hazards for Optimal Security
The primary safety and anti-pinch auxiliary functions of fast rolling doors rely on transmitting and receiving photocells in conjunction with the main controller. These systems accurately and reliably detect the presence of people or objects, providing signals to stop, close, or open the door curtain. This proactive approach effectively prevents potential safety hazards.
Pressure-Sensitive Edges: Ensuring Safety at the Door Bottom
High speed roller shutter feature pressure-sensitive edges at the bottom. When the door curtain descends rapidly and encounters an object, it automatically reverses to the top upon applying a force of approximately 5-10 kg. This feature guarantees the protection of both individuals and goods without causing harm.
Safety Light Curtain: Swift Response for Enhanced Safety
Equipped with a safety light curtain, high speed roller shutter swiftly respond when a person or object obstructs the light beam. The door ceases operation or immediately ascends, ensuring convenience and safety in real-time.
Standard Safety Devices for high speed roller shutter
Every PVC high-speed door is equipped with a set of basic safety devices to guarantee essential usage safety. However, by opting for additional safety options, you can elevate the security measures to a higher level.
PVC high-speed doors offer a reliable solution for workshops seeking both efficiency and safety. Through the implementation of key safety features like emergency stop buttons, safety photoelectric systems, pressure-sensitive edges, and safety light curtains, these doors ensure secure operations. By choosing additional safety options, users can further enhance the overall security levels of high speed roller shutter. DuPont, a Fortune 500 company, has installed this door