Lifting Range Of The Dock Leveler
As more and more customers buy the Seppes dock leveler, the popularity of Seppes also increases. But there are still many customers who are hesitant and want to know more clearly before making a purchase. In order to let customers have an understanding of our products in advance, I will now introduce this one of our products. It is convenient for customers to understand their own needs and determine the size and size.
1. Basic information of the dock leveler
The first is the standard size, respectively W2000m*L2000m*H500/600mm or W2000m*L2500m*H500/600mm. The width can be customized up to 2200mm, and the length can be customized up to 4500mm. Secondly, the colors that can be customized are blue and black. Then the length of the lip plate is 400mm, which can be customized to 500m. Finally, there are our safety guards. There are: shedding buffer device, geomagnetic valve anti-fall protection, emergency stop button, side anti-pinch protection.
2. Lifting range corresponding to dock levelers of different lengths
2000mm, adjustment range from -300mm to +240mm
2500mm, adjustment range from -300mm to +300mm
3000mm, adjustment range from -300mm to +365mm
4000mm, adjustment range from -350mm to +480mm
4500mm, adjustment range from -350mm to +550mm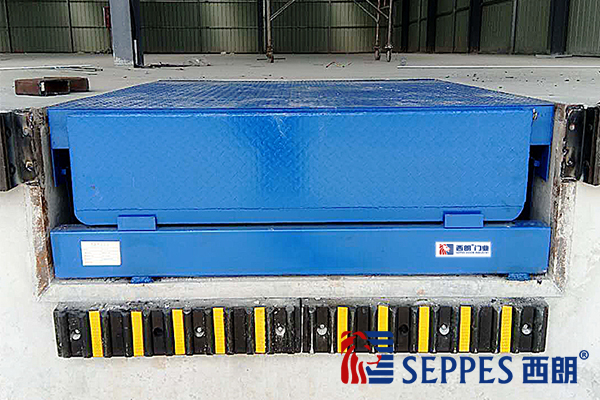 3. The strength of seppes
Seppes is a powerful enterprise with an area of ​​17,500 square meters of supporting specialized production plants, which can achieve an annual production capacity of 130 million. The products have passed 15 authoritative certifications, including CE certification and SGS certification. At present, there are more than 20 invention patents, and 15 are under application. Products have been exported to Europe, Australia, the United States, Canada, France, Japan, Dubai, Russia and other countries and regions through high international standards. In addition, Seppes is also a cooperative supplier of more than 60 Fortune 500 companies such as IKEA, Logitech, and Fresenius.