How does the sectional overhead door make the factory building easy to enter and exit?
With the rapid development of technology, factories are becoming more and more intelligent. Therefore, many factories have installed intelligent industrial doors. There are many types of industrial doors. Different types of products are installed in different places. For factory gates, many companies will choose the sectional overhead door. So, what is the role of this product, as follows: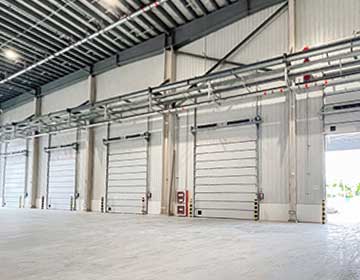 The Convenience of Industrial Lifting Doors
The product is available with reinforcement components, small windows and door-in-door options. A small window can be opened between 1-2 m. The door-in-door can be customized in the middle of the gate or on both sides. There is an interlocking device between the small door and the large door. If the small door is not completely closed, the large door cannot be opened to ensure safe use. This small door facilitates the entry and exit of personnel and reduces the number of times to open the gate. Can increase the service life of the product. In terms of safety, the small door meets the fire protection and safety standards.
This product is installed at the gate of the factory, and it also has the function of preventing wind and theft. The thickness of the door panel is 40 mm, and the material is color steel plate. Aluminum alloy or 304 stainless steel can also be customized. The interior is filled with polyurethane foam material, which increases the thermal insulation and can resist strong winds and rainstorms.
The sectional overhead door has the characteristics of beautiful appearance, strong and durable, stable opening and closing, low noise, and sealed storage. High practicality and high-end appearance have been widely used. Suitable for exterior and interior doors of various buildings. Meet various customization needs such as interlock linkage, automatic door opening and remote control communication. It is more convenient for factory personnel and vehicles to enter and exit.