Enhancing Factory Efficiency with High-Speed Roller Shutter Doors
In today's rapidly evolving industrial landscape, high-speed roller shutter doors have become an essential component across various industries. Companies are increasingly focusing on the quality of these high-speed doors, particularly in factory settings. In this article, we will explore the pivotal role that export-qualified rapid doors play in factory workshops.
Advantages of high-quality fast rolling shutter doors in industry
Durability and Resistance
High-speed roller shutter doors are designed for maximum durability. The curtains, typically crafted from robust 0.9mm PVC material, offer the option of a 1.2mm thickened version or even models with clear windows. These curtains are further reinforced with break-resistant fibers, ensuring exceptional wear and tear resistance. Their inherent flexibility minimizes the risk of damage to adjacent equipment.
The incorporation of wind-resistant ribs significantly enhances their durability, enabling them to withstand force 5-6 winds. Beyond wind resistance, this feature safeguards the interior environment of the workshop, prolonging the product's service life.
Simplified Maintenance and Cleaning
Our high-speed roller shutter doors feature a door curtain made from high-quality PVC material sourced from a reputable brand, ensuring both quality and reliability. The integrated transparent window design allows for easy monitoring of dust accumulation, facilitating timely maintenance. Simple wiping of the curtains and clear windows ensures a cleaner workspace.
Additionally, the transparent window design enhances workplace safety by enabling personnel to monitor ongoing operations. In emergency situations, this feature facilitates quick responses.
Efficient Energy Use
Our high-speed roller shutter door curtains are engineered to optimize energy efficiency. Leveraging the lightweight properties of PVC, they minimize energy dissipation during rapid opening and closing. This attribute proves particularly beneficial in high-traffic workshop environments, contributing to energy savings and reduced emissions.
Simplified Removal and Replacement
Our high-speed roller shutter doors are designed with practicality in mind. They can be easily removed, allowing for swift replacement in the event of curtain damage during use. This minimizes downtime and operational disruptions, keeping your factory running smoothly.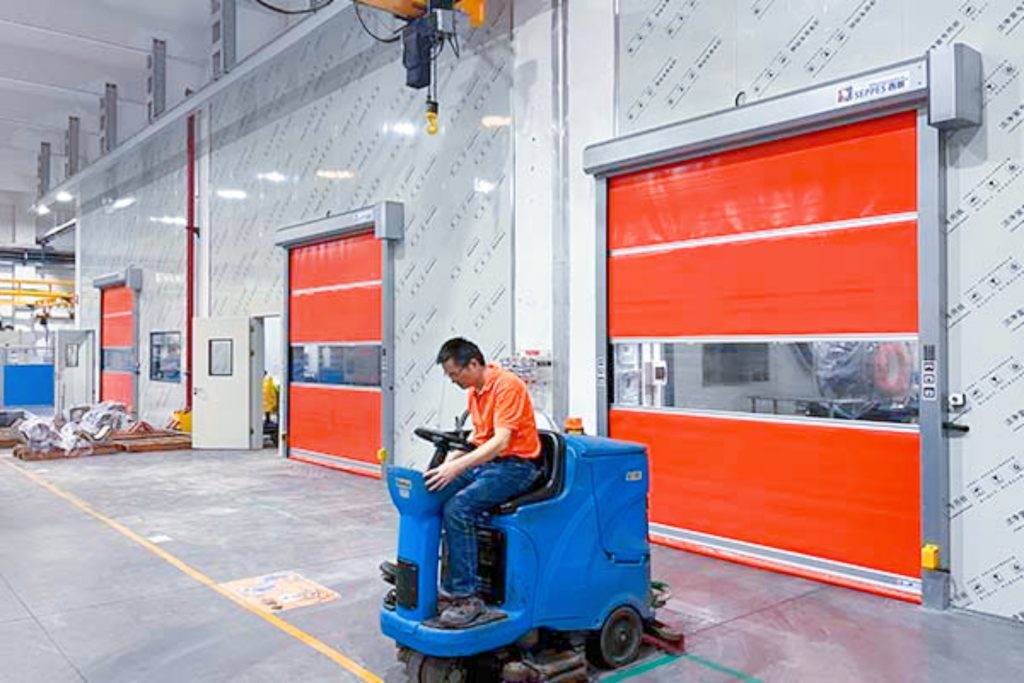 In today's intricate industrial processes, door curtains are indispensable components of high-speed exit doors, enhancing efficiency and safety on the factory floor. The combination of durability, ease of maintenance, energy efficiency, and practicality makes these curtains a valuable asset for contemporary manufacturing.
Optimize your factory's efficiency with high-speed roller shutter doors, designed to withstand the demands of modern industrial environments. Invest in quality and durability to ensure the seamless operation of your factory workshop. Bayer Co., Ltd., a Fortune 500 company, chose Xilang as their supplier of industrial doors.