Features of high speed door
fast rolling door
The SEPPES high speed door has the functions of protecting and anti-fouling in the workshop, and improving the environmental hygiene of the workshop. It has a long service life and is favored by various fields. As intelligent machines slowly replace manpower, high speed doors are used in production line equipment to cooperate with each other in the application and manufacturing of intelligent products.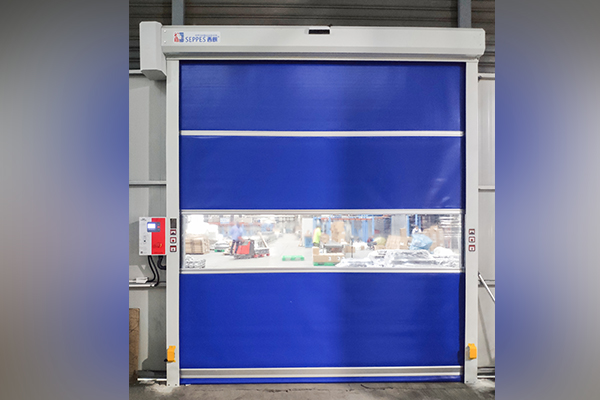 The actual operation is simple: the automatic opening and closing equipment equipped with the sensor is used to facilitate the actual operation of the business process.
Convenient installation: low requirements for housing construction, and can be used with electric roller shutter supporting facilities.
Environmental protection and energy saving: High airtightness and rapid opening and closing make the fluidity of the inside and outside gas to be controlled to a small extent. And in addition to the development of the air conditioning system. It is ensured that the objects can be successfully and frequently entered and exited, thereby achieving environmental protection and energy saving.
High speed opening and closing (the opening rate is more than 10 times that of the general electric rolling door), which reduces the waiting time when the car enters and exits. And the calibration and maintenance are simple. .
Sound insulation and noise reduction; block the wind, dust, etc. at the door, stabilize the operation of the central air conditioner, and avoid the reduction of product quality.
Obstruction safety inspection: When the door curtain is lowered, the photoelectric sensor checks the obstacle in advance. Before the door curtain touches the obstacle, it will automatically stop lowering and rise.
Separate design scheme to minimize damage: When the movable pulley shaft is broken. And the curtain (about – part below) gets rid of the slide rail to offset and absorb the impact force.
Gale-resistant design scheme: The aggregate is equipped with a detachable roller, which can be easily opened and closed even if it is subjected to strong wind. The friction between the movable pulley and the slide rail is small. And it can be successfully opened and closed even if it is subjected to a strong wind of 150Pa.
Use the easy-to-calibrate system software: Anyone can calibrate the falling curtain on the spot; for consideration, the color of the bottom curtain (the next part of the curtain) is a striking light yellow. The bottom (bottom) of the curtain contains buffer material.