Efficient Loading And Unloading Dock Leveler
Loading and unloading dock levelers are often used to increase the efficiency of loading and unloading. At present, many factories use it when loading and unloading goods, in order to save time and labor costs. The reduction of labor costs can be transferred to other places to create more wealth. This is beneficial for companies buying dock levelers. A lot of people want to buy a dock leveler, but don't know how it works and its features. So, let me show you about it.
Loading and unloading dock levelers Working principle
Through the joint work of the control system, the electric pressure power unit, the adjusting plate and the tongue plate, the loading and unloading dock leveler can effectively adjust the height difference between the bottom plate and the dock leveler of different transportation vehicles, and form multiple overlapping plates between the vehicle and the dock leveler to improve the performance of the dock leveler. Loading and unloading efficiency.
Features
The conventional dimensions of the loading and unloading dock leveler of Seppes are 2500mm long, 2000mm wide and 590mm high. The dynamic load rating is 6.3T, and the static load rating is 13.6T. There are guard plates on both sides, which can automatically retract to ensure the safety during operation. In addition, it is also equipp with hydraulic control speed safety valve and anti-fall valve safety protection device. Among them, the brands used for the working hydraulic pump are Argo-Hytos of Germany and Hydy-App of Italy. This dock leveler, Seppes also has innovative craftsmanship. It can avoid the impact damage of forklift, dock leveler, loading and unloading goods dock leveler.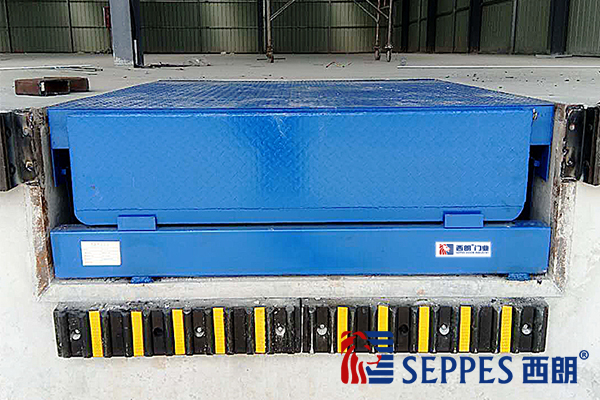 Seppes is a powerful company, and the quality of its products is similar to that of Hoermann. The technology is very mature. There are nearly 20 patents for various inventions and technologies, and 15 are pending. Products have been exported to Europe, Australia, the United States, Canada, France, Japan, Dubai, Russia and other countries and regions through high international standards. In addition, Seppes is also a cooperative supplier of more than 60 Fortune 500 companies such as IKEA, Logitech, and Fresenius.