Function, installation and maintenance guide for fast roll up door
Fast roll-up door, constructed from durable PVC material, offer remarkable speed with a running velocity of up to 0.6 m/s. These high-speed doors are engineered to provide efficient and seamless access, making them a preferred choice in various industries. Discover how to properly install and maintain fast roll-up doors to ensure their longevity and optimal functionality.
Installation of Fast Rolling Door
Before initiating the use of a fast rolling door, follow these steps for a smooth installation process:
Check Power Supply and Voltage Compatibility:
Prior to installation, verify that the power supply and voltage are compatible with the requirements of the fast rolling door.
Inspect Control Box Wiring:
Examine the wiring components of the control box to ensure they are properly connected and secure.
Calibrate High-Speed Radar Sensing Range: Confirm that the power supply and voltage align with usage specifications, then adjust the sensing range of the high-speed radar for accurate detection.
Functional Testing:
Once the above steps are confirmed, test the fast roll-up door's functionality by using the up, down, and stop buttons on the control box. Observe the door's movement, ensuring it reaches the designated positions as intended.
Immediate Action for Abnormalities:
If any irregularities occur during the door's operation, promptly press the stop button to halt movement at any position, activating the automatic stop feature.
Long-Term Storage:
In instances of prolonged disuse, raise the fast rolling door to its upper limit and simultaneously disconnect the power supply, maintaining the door in an open position.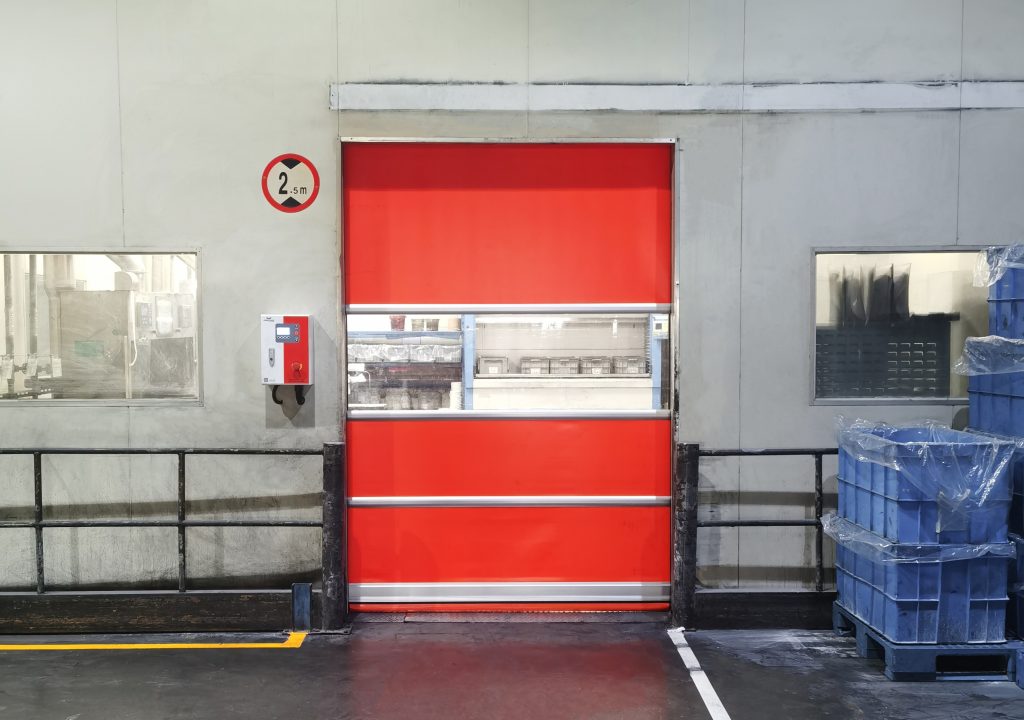 Control Methods for Fast Rolling Doors
Fast roll-up doors offer diverse control options for optimal convenience. These include:
Radar Detection: Utilize radar technology for precise detection and automated operation.
Geomagnetic Ring: Employ a geomagnetic ring system to enable efficient door movement.
Remote Control: Manage door actions remotely for enhanced accessibility.
Pull Rope Mechanism: Employ a pull rope method for manual door operation.
Card Swiping: Enable access through card swiping, ideal for controlled entry points.
Interlocking System: Use an interlocking mechanism for synchronized door operation.
Infrared Control: Implement infrared technology to facilitate seamless door movements.
Safety Measures and Emergency Stop Functionality
During the opening or closing process of the fast rolling door, pressing the red emergency stop button immediately halts all movements, securing the door at any position along its path. This safety feature ensures the protection of personnel and assets in case of unforeseen circumstances.
Maintenance Guidelines for SEPPES Fast Rolling Door
To maintain the optimal performance and longevity of your fast rolling door, adhere to these maintenance recommendations:
Regular Cleaning: Wipe the infrared protection switch and the door curtain with a clean cloth on a regular basis to maintain cleanliness and prevent debris accumulation.
Periodic Check: Conduct a quick inspection every 1-2 months to identify any potential issues or wear and tear.
Routine Cleaning: Incorporate overall cleaning tasks into your daily operations, ensuring the door remains in top condition.
Fast roll-up doors, constructed from PVC material and boasting a rapid running speed of 0.6 m/s, offer an exceptional combination of efficiency and dependability. By following the proper installation procedures, utilizing various control methods, and adhering to a comprehensive maintenance regimen, you can ensure that your SEPPES fast roll-up door operates seamlessly and continues to serve its purpose effectively. Yazhi Optoelectronics Technology Co., Ltd. installed this door in their production workshop.