High-Speed Rolling PVC Door: Features and Benefits for Industrial Applications
High-speed rolling PVC door offers a wide range of functions, making them indispensable in various industries, including food processing, chemical manufacturing, textiles, electronics, supermarkets, refrigeration, logistics, and warehousing. These doors excel in heat preservation, cold preservation, insect prevention, windproofing, dustproofing, sound insulation, fire prevention, odor control, and lighting. In this article, we will explore the numerous advantages of high-speed rolling PVC doors and how they enhance operational efficiency while creating a better working environment.
Advantages of High-Speed Rolling PVC Doors
Advanced Industrial Radar Induction:
These doors are equipped with advanced industrial radar induction systems that have a height range of 2-9 meters. The sensitivity and induction angle can be automatically adjusted, ensuring precise and reliable operation.
Efficient Servo Motors:
High-speed rolling PVC doors are powered by compact and lightweight servo motors. These motors are not only powerful but also capable of frequent use. They deliver smooth and quiet operation, ensuring safety and stability. With precise control and a soft operating curve, they enhance the overall performance of the doors.
User-Friendly Control Box:
The control box features a simplified internal structure, requiring only three main lines to enable automatic door operation. The built-in microcomputer control system offers compatibility with various automation equipment, providing limitless possibilities for integration. Additionally, it boasts a built-in display screen with support for both Chinese and English interfaces.
Safety Photoelectric Sensors:
To enhance safety, high-speed rolling PVC doors come equipped with infrared photoelectric sensors and a pair of protection switches installed at the lower part of the door frame. If an obstacle is detected, the door will immediately open and remain open, preventing accidents.
Durable Door Curtain:
The door curtain is constructed using polyvinyl chloride-coated wear-resistant base fabric with embedded anti-breakage fibers. Standard thickness is 0.9mm, with options for 1.2mm and 2.5mm. You can also choose from a variety of colors based on the RAL color card, ensuring aesthetic compatibility with your facility.
Enhanced Wind Resistance:
Aluminum alloy wind-proof strips are strategically placed at connecting points of the door curtain, providing additional reinforcement against strong winds.
Stainless Steel Construction:
These doors are crafted from stainless steel, offering exceptional corrosion resistance, formability, compatibility, strength, and toughness. This ensures longevity and durability, even in demanding industrial environments.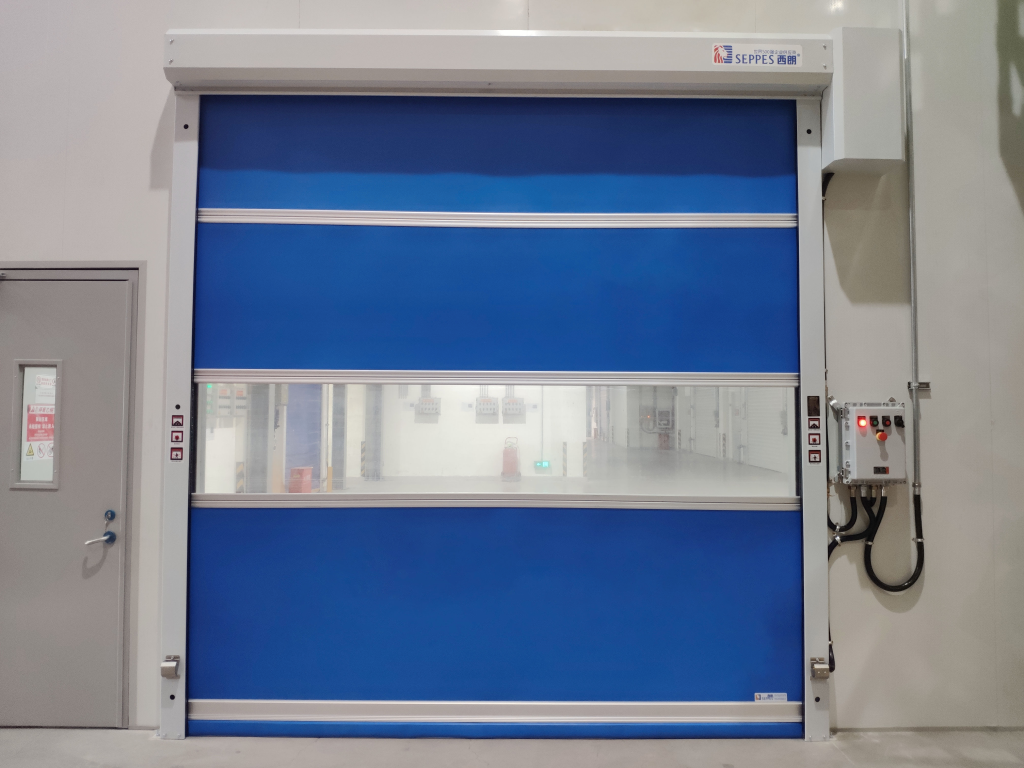 Conclusion
In conclusion, high-speed rolling PVC doors offer a multitude of advantages for industries requiring high-performance, clean spaces. With features like advanced radar induction, efficient servo motors, user-friendly control systems, and robust safety measures, these doors are a valuable addition to any facility. Their durability and resistance to various environmental factors make them a reliable choice for optimizing operations and improving working conditions. Dana Technology Co., Ltd., a Fortune 500 company, chose SEPPS as their industrial door supplier.