Sectional doors are more secure than rolling doors
Plant safety has always been the focus of the enterprise. Not only the safety of products, but also the safety of personnel is very important. If a safety accident occurs in a factory building, the economic loss directly caused is also a huge amount. Casualties caused by the derailment of the gate of the factory building are usually caused by low prices and improper installation. In the end, even the manufacturer cannot be found. So how to choose a good factory door? Many customers will choose to install sectional doors, the details are as follows.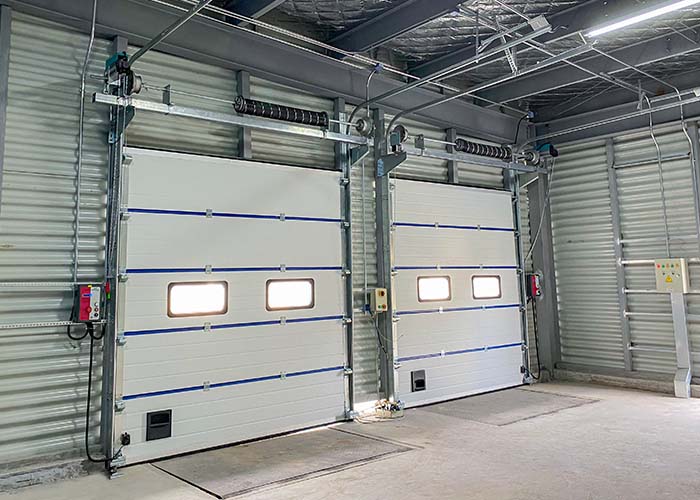 The embodiment of the safety performance of the sectional overhead door
Compared with ordinary rolling doors, sectional overhead door have a higher safety factor and are stronger. It adopts double-layer color steel plate, filled with polyurethane foam in the middle, and the overall thickness can reach 50mm. The product can effectively keep warm, resist impact, and can also resist strong winds of level 8-10. The rolling shutter door has already derailed under this kind of wind force, so the safety inside the factory building cannot be guaranteed.
This product is not only sturdy and durable, but its built-in safety device is incomparable to rolling shutter doors. The sectional overhead door adopts four major safety systems: torsion spring anti-breaking, wire rope anti-dropping, end cushioning and safety air wrapping. These four safety systems can well guarantee the safety of passers-by. And it can also be equipped with safety photoelectric, which improves the safety performance of the production.
The factory chooses the sectional doors to ensure the safety of the factory building. Now many customers have replaced rolling doors and sliding doors with lifting doors. Customers have a common saying. Although rolling doors and sliding doors are cheap, they have high security risks. That's the problem with low-priced products.