PVC Roll-Up Doors: Enhancing Clean Room Efficiency and Hygiene
PVC roll-up doors are extensively utilized in factories, workshops, logistics channels, storage warehouses, and other industrial settings. Their popularity stems from their ability to meet the stringent cleanliness and environmental requirements of clean rooms. In this article, we will discuss the significant advantages of employing fast roll-up doors in clean room environments.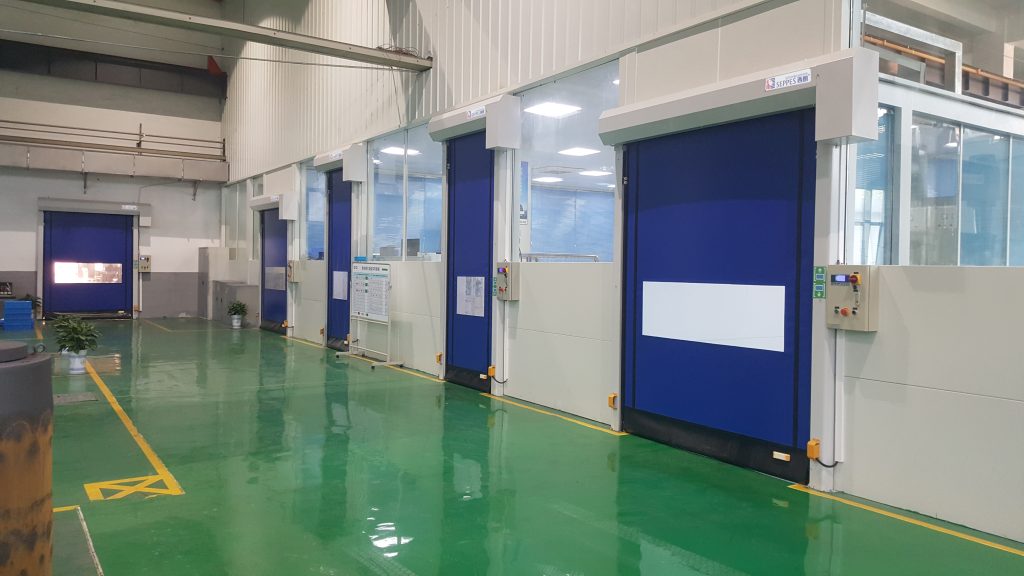 The importance of fast rolling doors for clean rooms
1.Improved Working Environment: Dividing Spaces into Two Temperature Zones
A key benefit of PVC roll-up doors is their capacity to divide spaces into separate temperature zones, both inside and outside the clean room. This division enhances the comfort of the working environment, providing employees with an optimal workspace. By isolating temperature variations and external influences, these doors contribute to maintaining a pleasant atmosphere within the clean room.
2.Efficient Operation: Frequent Opening with Stable Performance
Fast roll-up doors offer efficient operation, allowing frequent opening and closure with exceptional stability. In the case of clean rooms, an automatic sensor switch can be employed, eliminating the need for manual operation. This automated feature is an excellent choice for preventing cross-infection and ensuring adherence to the strict hygiene requirements of the clean room.
3.Dust Prevention and Superior Sealing Performance
To maintain cleanliness in clean rooms, it is crucial to prevent dust and maintain optimal sealing. PVC roll-up door excel in this regard. Equipped with innovative double-row deck-type sealing brushes, U-shaped bottom edges, and integrated door head sealing boxes, these doors form a four-sided airtight structure. The result is a highly effective partitioning solution, effectively shielding the clean room from external dust and contaminants.
Selecting the Right Fast Rolling Door for Your Clean Room
When selecting clean room doors, it is vital to consider the specific requirements of different areas within the facility. Clean room fast roll-up doors are an excellent choice for areas that demand high cleanliness standards. By opting for PVC roll-up door, you can ensure the integrity of your clean room, creating a safe and productive environment.
In conclusion, PVC roll-up doors offer a host of advantages for clean room applications. They enhance the working environment, provide efficient and frequent operation, and effectively maintain cleanliness and hygiene standards. Especially for companies with high environmental requirements like Johnson & Johnson. By selecting the right door, you can optimize your clean room's performance and create an environment that promotes productivity and employee well-being.