Installation of clean room high speed doors in pharmaceutical workshops
Pharmaceutical factories are different from ordinary factories. The construction of their factories is very strict, especially the cleanliness inside. From material discharge – processing – packaging – to the finished product workshop. All require a very strict clean environment. In order to meet the cleaning needs, many methods have been thought of, some of which use swing doors, sliding doors and so on. But casement doors and sliding doors run at too low a speed and the sealing performance is not very good. SEPPES recommends the use of clean room high speed doors.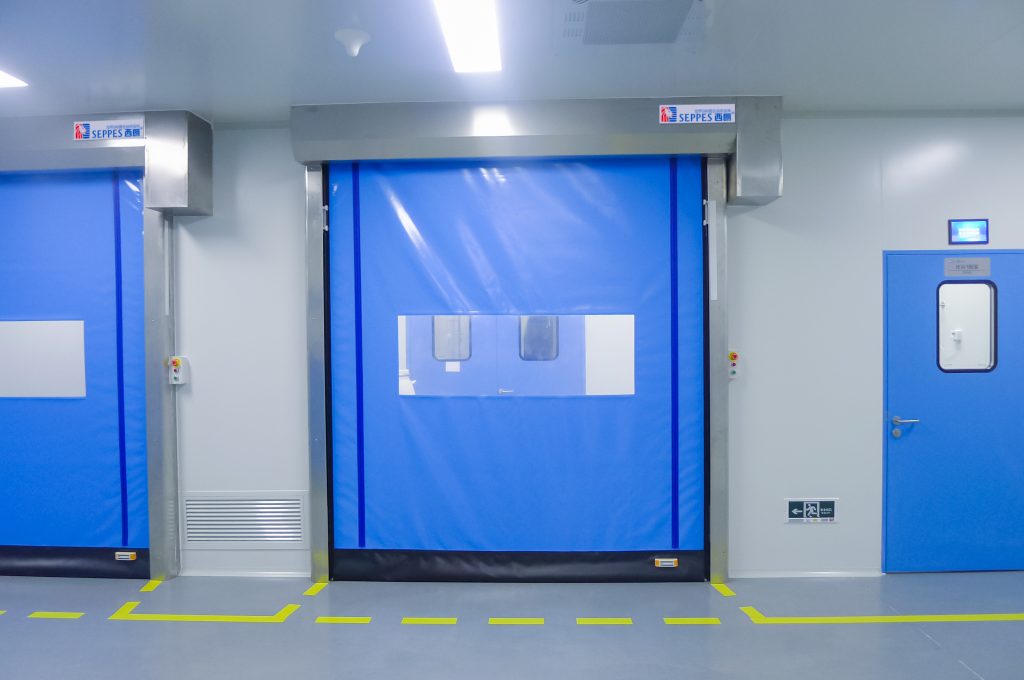 Advantages of clean room fast doors
The clean room fast door is a kind of fast door. It is different from ordinary fast rolling doors. Compared with ordinary fast rolling doors, its advantages are as follows:
1.The frame has no protruding screws. Compared with ordinary fast doors, this zipper fast door has no protruding screws on the entire frame. It is used in the pharmaceutical workshop without falling dust, which ensures the cleanliness of the workshop to a large extent.
2.This zipper fast door curtain is integrated. There is no stitching in the middle of the door curtain, and the surface of the door curtain is smooth and specially treated, so it is not easy to pile up dust.
3.Both sides of the door curtain adopt a unique rail zipper design. Compared with the ordinary fast door brush design, it is more sealed, isolated and clean.
In addition, compared with swing doors and sliding doors, the speed of SEPPES clean room high speed doors is faster, reaching 1.5 m/s. The sealing and speed are better than these two industrial doors. The track adopts a zipper-locking structure, similar to the zipper on clothes. In this way, the rails on both sides of the fast rolling door can be completely sealed with the door curtain. It has no gaps, and its sealing performance is greatly improved. It is a special clean room door for pharmaceutical factory workshops.