Are high speed spiral doors suitable for garage use?
Due to the frequent lifting, high-speed opening, automatic identification, induction opening, and intelligent linkage performance of fast rolling windows. It is used in smart garages, three-dimensional garages, underground and fire garages. Because the garages are basically outdoors, high speed spiral doors that are both anti-theft and fast are used.
Before spiral doors became widely available. Many garages would use stacked high speed rolling or sectional doors. Because it has wind resistance and fast performance, the door curtain is made of soft PVC, which was gradually diluted later. However, the sectional door opening and closing speed is slow and the frequency of entry and exit is low. Which is not suitable for the use needs of the majority of garages.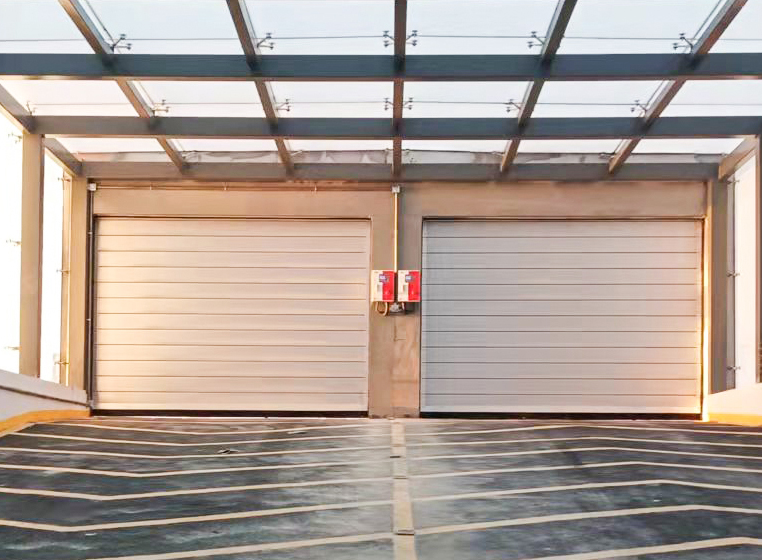 What are the advantages of using spiral doors in garages?
1.Intelligent identification: the spiral door has a variety of intelligent systems. Through the Bluetooth system, linkage performance, radar induction, geomagnetic induction, etc. It is smarter and more convenient to identify vehicles and get in and out.
2.Sealing and heat preservation: aluminum alloy sandwich door panels are selected. It is surrounded by rubber seals, and the inner and outer aluminum plates are designed with broken bridges to increase muscle heat insulation performance. Used on the garage, it has more cold-resistant and heat-insulating performance, and ensures constant temperature and humidity inside.
3.Built-in photoelectric protection: the spiral door opens and closes at a speed of 1.5m/s. There is an imported infrared light curtain protection on the inside of the guide rail to ensure the safe passage of vehicles entering and exiting.
The high speed spiral door has the characteristics of intelligence, sealing and heat preservation, and the safe passage of vehicles, which is very suitable for use in the garage. The well-known Chinese brand Lovol has purchased this product many times.